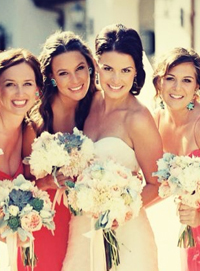 accolades | read more on our facebook page
"I feel so lucky to have found Rebecca, she was my first make-up trial for my wedding and right away, I knew she was the perfect fit. Her sweetness and personality shine through, not to mention, her years of experience and knowledge are evident. I didn't have a specific idea of what I wanted, feeling I could confidently put myself in her hands. She did an amazing job, I still looked like me, just an elevated version. I was reticent to have attention on me knowing hundreds of pictures would be taken. But thanks to her, on my wedding day, I didn't give this another thought. It was also important for me to have someone there who could blend with all the amazing women I had surrounding me and she handled this amazingly well, everyone was happy and looked gorgeous. I wish I could do it all over, to be able to work with her again."
Erica
"You did a great job (on my makeup trial)! I got so many compliments, and now my bridesmaids are super excited to have you glam them up too! It was so fun having you around with all the girls, and you definitely have such a sweet, peaceful spirit, which is EXACTLY what I need on my wedding day!"
Lisette
"Rebecca, I wanted to thank you for a beautiful job! Everyone commented on how 'naturally' beautiful I looked! Hehe! Again Thank You!"
Gaby
"Happy holidays Jenny, I just wanted to say thank you again for the beautiful job you did on everyone's makeup! I was looking at pictures (again) today and you are such an artist and an amazing person! I hope to cross paths with you again - maybe meet for a drink and catch up soon! In the meantime happy holidays & new year!!!! Xoxo
Jasmine"
"Dear Rebecca and Jenny, Thank you so much for making us all feel so beautiful on the wedding day! Everyone looked and felt great.You were both a pleasure to work with. I have never been too comfortable in make-up but I felt amazing and my (now) husband was blown away.
Best,
Sarah"
"Rebecca Zavala is a true makeup artist who understands color, technique, and how to make her clients feel and look stunning! After having her do my makeup for an engagement photo shoot, I knew my wedding day look would be fabulous! I tend to wear very little makeup but I knew I wanted to play up my eyes, have the appearance of flawless skin, and look myself but amplified. She listened to my request and blew me away with how gorgeous I looked and felt on both occassions. She is personable, bubbly, a greater communicator and most of all she makes you feel extrememly calm on what can be a stressful day. If I could have her as my personal makeup artist, I absolutely would!!!!"
Charloette
"The makeup for my wedding was done beautifully, for both myself and my bridesmaids. Rebecca listened to exactly the look I was going for and executed it to a tee. I would highly recommend the services of both Jenny and Rebecca at Unveiled."
Jessica
"Thank you, Rebecca! The wedding was a blast, and my makeup looked mahvelous. We were lucky that the rain broke for the requisite eight hours. I hope you are all having a great start to the New Year at the salon. Can't wait to see you and the fam sometime in 2011. I will send official photos when I get them, like ones with me and Tom rather than Chantal, whom I did not marry. :)
Love,
Clarissa"
"Hi Rebecca, I just wanted to write to you to say Thank-you. You did such a great job on everyone. You not only made everybody in the wedding part look beautiful but you were wonderful to work with. Please feel free to us me as a reference.....Again, thank-you so much for all your hard work.
Take care,
Katie"
Have a comment you would like to share? Please visit our facebook page or email us using the contact form.
Thank you and Many Blessings to you!
Unveiled is your Santa Barbara Make Up Artist, specializing in Wedding Hair and Makeup in Santa Barbara, Ventura and beyond.
Rebecca 805.452.5449 or Jenny 805.689.8574 | Unveiled Hair & Makeup | © 2012 all rights reserved