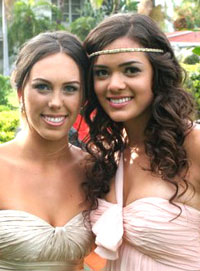 How long does a makeup application usually take?
About 45-60 minutes, depending on if it is a natural or dramatic look.
How long does a hair usually take?
About 1 hour on average for an up-do, and 40 minutes for a blow out or simple style.
What should I do to prepare for my wedding day?
Be sure not to do anything dramatic the week before your wedding. Get all your waxing, facials & tanning at least a week before the day of. Eye cream & moisturizing is a must. Drink lots of water & take your vitamins. The day of be sure you have a nice breakfast & keep hydrated.
What makeup products should I purchase for my wedding day?
You will want to touch up your lips after the ceremony, so we recommend purchasing the lipstick and lip-gloss. If you have oily skin don't forget your powder.
Should I get my hair or my makeup done first?
It depends on your hair style, but usually getting your hair done first is best. This way your makeup can be applied right before you put on your dress, keeping it looking its freshest. However, if your hair style sweaps across your face it's best to do your hair after your makeup.
How to I book my date with Unveiled?
We require a $75 deposit to hold your date, which is non-refundable but is applied toward your total balance. We also request you sign service agreement once the date is locked in, and all the details figured out.
Is a trial run really necessary?
A trial run is not completely necessary, but it is recommended. It's a great way to communicate your wants & needs with your makeup artist and/or hair stylist in a relaxed setting. This way on the day of the makeup and/or hair goes very smoothly & quickly, giving yourself more time & less stress.
How long does a trial usually take?
About 1 hour for each service, since we are going over what look you're desiring and getting to know one another. If you're doing both your hair and makeup trial at the same time allow 2 hours.
Do I need to do anything special with my hair to prepare?
We request that you come to get your hair done with clean, dry hair, if possible.
How long will my makeup last?
If waterproof mascara is used, an eye shadow base, & a makeup setting powder is applied it should last all day and night long. M.A.C has a new line of makeup that is 12 hour long wear, which includes, foundation, concealer, eyeshadow, lipstick, and lipliner. We have and have been using latey and are very happy with it. However, you will probably need to reapply your lipgloss after eating, and powder if you're oily.